Cambio Physician Websites Family Practice Website Design

Our website development services includes website design, website hosting, email addresses, email forwarding, and registration in major search engines. Our medical marketing services include business card design, email marketing to patients, and email newsletters to patients. Find out more in our services section.
Family Practice Website Design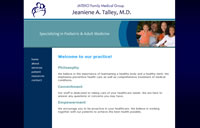 We design websites for family and general practices. Whether you belong to a small or large group practice, we are able to design a custom medical website to fit your needs.